Supermodel Baby! Gisele Bundchen Shows Off Beautiful Daughter Vivian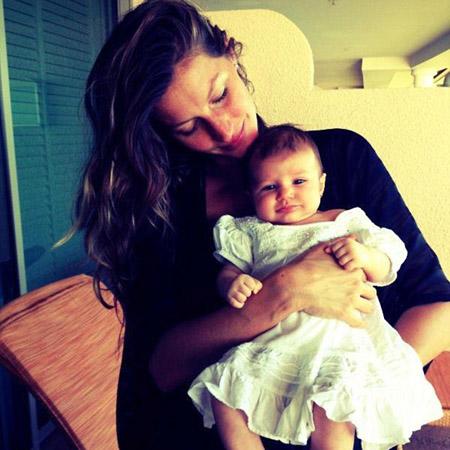 Gisele Bunchen's daughter, Vivian Lake Brady, has already done her first photo shoot, and she's on her way to supermodel status!
The proud Brazilian mama posted a picture of her holding her precious two-month-old baby on her Facebook page and gushed over the pretty girl dressed in a white dress.
"Love is everything!!! Happy Friday, much love to all," Gisele wrote about her infant.
Vivian was born at home in Boston on December 5, 2012, and football star Tom Brady and his wife announced her arrival in a statement saying: "We feel so lucky to have been able to experience the miracle of birth once again and are forever grateful for the opportunity to be the parents of another little angel."
Article continues below advertisement
Vivian has two older brothers, Benjamin and John, whose mother is Tom's ex Bridget Moynahan.
Tom recently spoke about having a daughter to ESPN, saying: "I think it's great for my boys to have a girl in the house, understand at least a little bit about what makes a woman tick, not that I can certainly figure that out, because I can't."
The enamored daddy then gushed about Vivian, adding: "She's a beautiful little girl."