Game On! Ashton Kutcher & Mila Kunis Cuddle, Laugh At Lakers Game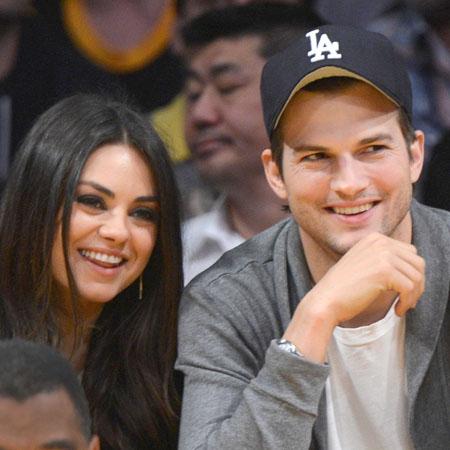 Ashton Kutcher and Mila Kunis certainly looked like a couple in love at Tuesday night's Los Angeles Lakers game against the Phoenix Suns, and RadarOnline.com has the photos, plus we've got video of her hilarious appearance on Wednesday's The Ellen DeGeneres Show, during which she tries to dodge questions about their romance.
At the game, the pair cuddled, giggled, and shared whispers as they cheered the home team on to victory at the Staples Center, while also enjoying the entertainment of the 'Kiss Cam' during lulls in the match.
Article continues below advertisement
While the Ted beauty showed her allegiance to her team by wearing a Lakers T-shirt, the Two and a Half Men star opted to wear a cap emblazoned with the logo of the L.A. Dodgers.
Although the couple certainly doesn't mind being seen together, they've been extremely tight-lipped in talking about each other publicly.
As RadarOnline.com previous reported, in the March issue of Allure, Kunis refused to talk about her relationship with the (technically) still-married Kutcher, who's divorce from Demi Moore is still not final.
When the magazine reporter showed her a photo of the Two and a Half Men star, Kunis clammed up.
"I didn't think this was going to be about my friends. Happily about myself! Not about who my friends are, who I'm dating, or who I may have ever dated. That's not talking about myself!"
Meanwhile, in a pre-taped interview set to air on Wednesday's The Ellen DeGeneres Show, Kunis became hilariously uncomfortable when Ellen tried to gently nudge her to talk about Kutcher.
Article continues below advertisement
When Ellen asked if she still keeps in touch with her That 70s Show co-stars, she said she did. Then, Ellen flashed a giant photo of Kunis and Kutcher from the show on a screen behind her.
"How is he doing, I wonder? Do you talk to him at all?" Ellen coyly asked.
"When's the last time you talked to him?" DeGeneres asked. "I'm just asking...It's a showbiz question!"
"It's been, give or take, a couple of minutes," Kunis admitted.
Kunis also said she's "never put much emphasis" on Valentine's Day and said she likes simple gestures.
"I love flowers," the Black Swan star said. "So, flowers are nice. Chocolates, who doesn't like chocolate? Super stereotypical."
"So you want roses and chocolate?" DeGeneres confirmed. "All day long," Kunis agreed.
Asked if she wouldn't mind a huge teddy bear as well, Kunis playfully replied, "I want the biggest bear and a thousand roses. If we're going to do it, we might as well do it full out."
Watch the video on RadarOnline.com
Kunis, 29, and Kutcher, 35, have known each other for 14 years, but began dating after his split from Moore.