One For The Mug Shot Hall Of Shame! Desmond Bryant Topless, Inebriated In Booking Photo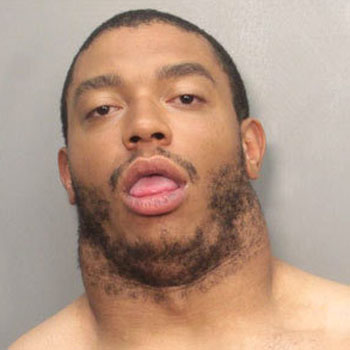 Football player Desmond Bryant will have a hard time living this one down!
The Oakland Raiders defensive tackle was arrested in Miami over the weekend on a misdemeanor charge of criminal mischief and was snapped in one of the worst mug shot photos ever – and RadarOnline.com has the details.
The 27-year-old Harvard graduate was arrested after "going into a neighbor's house inebriated and causing a commotion," cites the San Francisco Chronicle and according to CBS Miami, police said the football star was "extremely intoxicated" and had red, blood-shot eyes and slurred speech, as well as the "strong smell of an alcoholic beverage emitting from his breath," when he was booked early Sunday morning.
Article continues below advertisement
There was much confusion in the media after the star's arrest, with several outlets mistakenly reporting that Dallas Cowboys wide receiver Dez Bryant had been arrested.