Disgraced New York TV Anchor Rob Morrison Downs Beers At Bar After Alcohol-Fueled Attack On Wife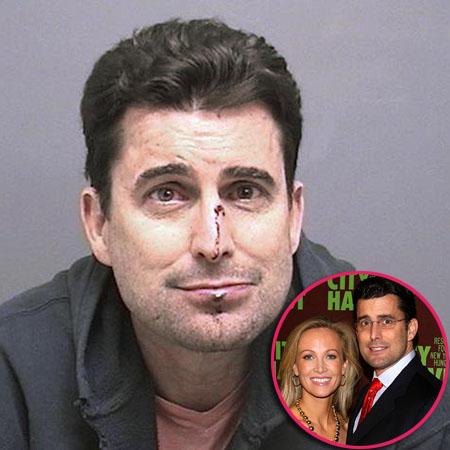 On the same day he announced his resignation from his high-paying job as a TV news anchor for WCBS-Channel 2 in New York, disgraced journalist Rob Morrison was photographed downing three beers in a Connecticut bar – and to make matters worse, he actually spoke to a reporter while drinking!
"I just lost my job today," Morrison lamented to a reporter for The New York Post inside a Buffalo Wild Wings saloon in Stamford, CT. on Wednesday. "I could not go on the air again," he added.
Article continues below advertisement
Earlier Wednesday, Morrison, 44, announced his resignation as the morning and noon anchor at WCBS-Channel 2. In a prepared statement, he said: "My family is my first and only priority right now, and I have informed CBS 2 management that I need to put all of my time and energy into making sure that I do what's best for my wife and my son. I very much appreciate the opportunity that CBS 2 has given me and I thank them for accepting my decision."
Earlier Wednesday, Morrison had tweeted, "To those who prefer to believe the outright lies printed in the tabloids, I ain't mad at ya. Good luck."
Station management has reportedly been livid that Morrison lied about the cause of his injuries when he reported to work Monday morning - the day after the incident.
The New York Post cites sources as saying Morrison submitted his resignation hours after the paper exclusively reported that the handsome TV journalist, a 180-lb former Marine, had also previously threatened to murder his 7-year-old son in front of his 40-year-old wife Ashley, and then kill her.
Article continues below advertisement
Speaking to The Post at the bar Wednesday, Morrison denied those allegations.
He also claimed that Ashley, a petite blonde who weighs 115 lbs, was actually the aggressor and that she hit him in the face with the remote while they were watching Mystic Pizza.
"Don't always assume it's the woman that calls the cops," Morrison said.
When asked if he is depressed - as his wife told cops - Morrison said, "I see a psychiatrist once a week," and added that he suffers from anxiety.
The Post also reports that Morrison became misty-eyed when talking about wanting to stay married to Ashley for the sake of their son. He said he feared she'd divorce him and turn him into a "part-time" father.
As RadarOnline.com previously reported, police were called to the couple's million-dollar home in Darien, CT. around 1:30 am Sunday after receiving a 911 call from Ashley's worried mother, Martha Risk, who lives in Indiana. Morrison had called his mother-in-law, saying her daughter was "crazy" after he began fighting with his wife, who's a TV anchor for CBS Money.
Article continues below advertisement
When cops arrived at the home, they found Ashley had red marks on her neck, but she declined to go to the hospital and would not allow officers to photograph her injuries. Morrison had cuts on his face inflicted when Ashley hit him in the face while he was allegedly choking her.
Ashley reportedly told cops that her husband had been drinking vodka on Sunday, although he'd attended AA meetings. Morrison called the arresting officers "f**king a**hole cops" and dubbed one cop "Sergeant Douchebag," according to the police report.
When asked if his handcuffs were too tight, he "stated that he wanted them tighter," it also stated.
While he was being booked, he reportedly slurred to a cop booking him, "I can't go home tonight man, I'm f**king killing her!"
He's charged with strangulation, threatening and disorderly conduct.
According to the NYPD, the couple has a history of violence -- officers visited the couple's apartment in Manhattan seven times, and Morrison made only one of the calls. The other six were made by Ashley, and most involved him drinking alcohol.
Article continues below advertisement
Meanwhile, in yet another bombshell revelation, Ashley's brother, Dr. Gregory Risk, told cops that Morrison had once threatened the couple's 7-year-old son, Jack, according to The Post.
"G. Risk stated that in the past R. Morrison commented to him that if A. Morrison leaves him he would shoot their son in front of her and then shoot her," police wrote.
In further shocking news, The Post reports that Ashley got Morrison fired from his previous job as morning news anchor at WNBC/Channel 4 in 2008 after she suspected him of having an affair with a production assistant or intern.
She reportedly e-mailed about 100 people in the newsroom, accusing them of being complicit in the suspected affair.
"You know that if I go public, it is going to make everybody at Channel 4 look bad," Ashley reportedly wrote in her email to NBC journalists.
"The email said, 'I know who the woman is, I know my husband has been carrying on and the fact that you have protected him is disgusting, this affair happened in your work place and you did nothing to stop it,'" a source told The Post.
Article continues below advertisement
She was basically saying 'if you continue to shield my husband, I am going to make life really hard for you'."
"It made everyone as uncomfortable as hell. She wrote it to the general manager and the news director at Channel 4, and cc'ed all of his co-anchors including the weather man…He said the situation was really uncomfortable."
"Channel 4 protected Rob as long as they could, and when they thought that Ashley's email might go public, they told Rob we are going to cancel you," the source told the paper.
The Post reports Ashley has denied sending the emails, but in any event, Morrison's contact was not renewed by WNBC-TV.
WCBS-Channel 2 hired Morrison in 2009 after he spent more than a year as a stay-at-home dad who wrote a Web blog about his Mr. Mom life.
He remains free on $100,000 bail until his next court appearance.