That Was Fast! Danica Patrick Dating Fellow NASCAR Driver Ricky Stenhouse Just Weeks After Filing For Divorce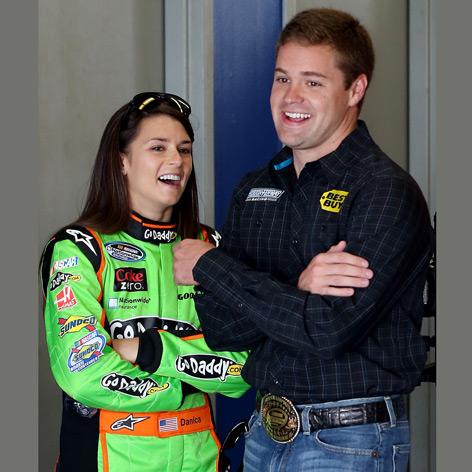 Danica Patrick, who hopes to make history Sunday by winning the Daytona 500, is opening up on her new romance with fellow NASCAR driver Ricky Stenhouse.
The romance has gone public just weeks after Patrick's January 3rd divorce petition, ending her marriage to Paul Hospenthal, her husband of seven year. She'd announced they had split in November.
Asked by Men's Heath if she thought dating someone who is essentially a co-worker, Patrick laughed, "Well, I don't think I thought it was a good idea. There was nothing I could do about it. You can't tell your heart who to like and not like. It just happened."
Article continues below advertisement
And what will it be like when sexy GoDaddy spokeswoman Patrick, 30, comes up against the 25-year-old Stenhouse in a race?
"Ricky and I...respect each other on the track. I don't see any reason for that to change," she said.
Patrick has the pole position in tomorrow's Daytona 500, the first female driver ever to win that coveted spot.
By Debbie Emery – RadarOnline.com Reporter
It's a match made in NASCAR heaven, as the drama of Dark Knight Rises and the racing sport's most high profile and hunky driver Dale Earnhardt Jr. join forces, and RadarOnline.com spoke to the sports star in an exclusive video interview.
"Diet Mountain Dew, one of the sponsors on my race team, has brought Batman and his new movie, the Dark Knight Rises onto a race car so we're going to have the colors at the race this weekend in Michigan," explained Earnhardt, as he sat in his racing gear by the track.
Come back to RadarOnline.com to find how how she does!