Crystal Cathedral Televangelist Accused Of Begging For Charity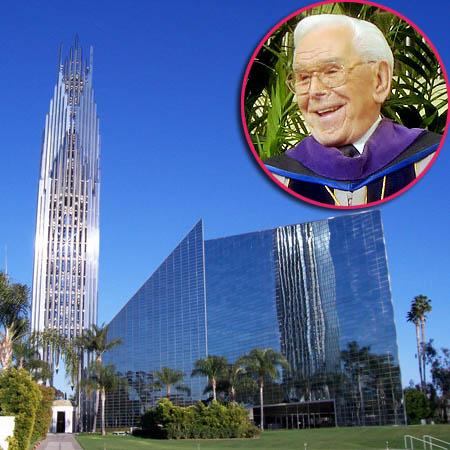 That's what you call a fall from grace.
Reverend Robert Schuller was once a high-powered televangelist but now he's begging for donations to help fix his broken heater!
The 86-year-old former leader of the famed Crystal Cathedral in Orange County, Calif. was accused of "overly extravagant spending" in a 2010 bankruptcy case -- which also revealed the church owes a cool $55 million to creditors -- and his own personal finances have now become so bad that he and his family have taken to pleading for charity from members of their new church, The National Enquirer is exclusively reporting.
Article continues below advertisement
Robert's daughter, Sheila Schuller Coleman, recently begged members at Coleman's Hope Center of Christ in Orange County, Calif to make donations to assist her famous father and mother, Arvella Schuller, the Enquirer reports, and a message recently posted on the church's Facebook page and website thanks parishioners for their help.
The money "provided just what they needed to fix their broken heater...and have their dishwasher fixed as well. It was a true blessing and they can't thank you enough!" The missive reads.
For exclusive details on how church members are reacting to Rev. Schulller's shocking pleas for charity, and a full rundown on the story, pick up the latest issue of the National Enquirer -- on newsstands Thursday.