Exclusive
Courtland Rogers Seen Snorting Heroin, Says Jenelle Evans Was Doing Drugs While Pregnant - The Video You Have To See!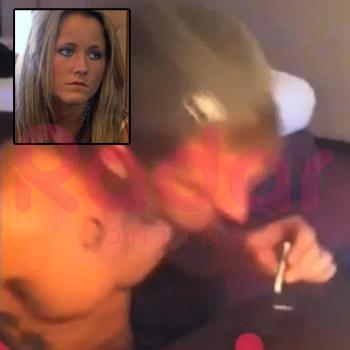 Courtland Rogers opened up about his estranged wife Jenelle Evans' drug use during her recent pregnancy, all while sorting a white powder that a source told RadarOnline.com is heroin!
In a videotape obtained exclusively by RadarOnline.com, a shirtless Rogers talked to his friend Tiffany (who requested we not use her last name), about Jenelle's drug use.
"That's why she had a miscarriage," Courtland says on the tape.
Article continues below advertisement
Courtland insists he tried to keep the Teen Mom 2 star away from drugs while she was pregnant but had no success.
"The whole time I'm telling Jenelle you can't be doing this sh*t. It's going to kill our baby."
They went to Jenelle's doctor when she was six weeks pregnant, and "the OBGYN asked her why she had opiates in her system," Courtland says, adding that he asked the doctor what to do about getting her off drugs.
"It was her first trimester. I knew something bad was going to happen," Courtland says, and on January 24, she lost the baby.
Rogers, who wed Evans on December 4, has a child, Jordan, from a previous relationship. Evans has a son, Jace, 3, from a previous relationship. Her mother Barbara Evans has temporary custody of Jace.
Courtland also says that Jenelle went off her bipolar drugs during her her eight-weeks of pregnancy. "I'd rather her doing her bipolar meds than heroin," he says.
Article continues below advertisement
As RadarOnline.com previously reported, Courtland has blamed Jenelle's ex, Kieffer Delp, for getting her hooked on heroin.
Rogers also denies that he assaulted Evans after their split late last month, and blames her drug use for her making the allegation. He never laid a hand on her, he insists.
Through the entire conversation with Tiffany, Courtland is seen chopping up a white substance, lining it up and then snorting it through a dollar bill.
"It was heroin," Tiffany tells us.
Courtland now insists the white powder was baking soda!
Watch the video on RadarOnline.com
Jenelle has denied to Radar that she did heroin while she was pregnant.