Chris Brown Copies Kanye West With Religious Hoodie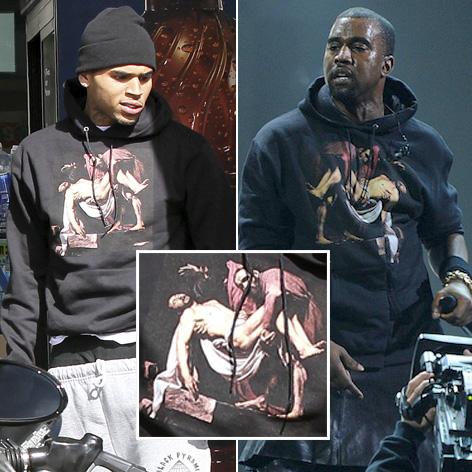 Is Chris Brown feeling persecuted? Or is he just a fan of Kanye West and his fashion sense?
Either might explain Brown's choice in hoodies on Friday.
Rihanna's boyfriend was spotted in Beverly Hills wearing a sweatshirt by Pyrex Vision called The Entombment of Christ.
Kanye wore his hoodie at the 12.12.12: The Concert for Sandy Relief.
Brown was dressed somewhat more conservatively when he appeared in court earlier this week. Wearing a jacket, white shirt and tie -- and accompanied by the all-forgiving Rihanna -- the singer went before a judge to answer charges that he didn't fulfill the community service requirement of his probation following his 2009 conviction for beating Rihanna.
Article continues below advertisement
Brown's layer is refuting the allegation made by the L.A. County D.A. They'll all be back in court in April.
Brown, Rihanna and West will all be attending Sunday's Grammy Awards.