Virginia Police Chief Who Signed Off On Chris Brown's Community Service Resigns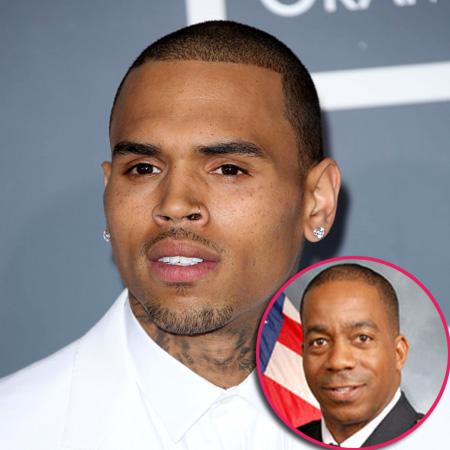 The top cop in Richmond, Virginia, who personally signed off on Chris Brown's controversial community service report, has resigned from his post, RadarOnline.com is reporting.
Richmond City Mayor Dwight Jones announced at a news conference Tuesday he has accepted the resignation of Police Chief Bryan Norwood, who had a role in overseeing Brown's community service imposed on him as a result of his 2009 beating of his girlfriend Rihanna.
Article continues below advertisement
As RadarOnline.com has previously reported, under Norwood's watch, the Richmond Police Department has found itself forced to refute accusations that Brown faked his probation and lied about how many hours he completed. The Richmond PD has fired off a scathing letter to L.A. prosecutors vehemently denying their claims that "sloppy" and potentially "fraudulent" reports were provided from the department.
L.A. District Attorney Jackie Lacey said in a statement last week that, "Chris Brown failed to provide 'credible or verifiable evidence'" that he completed his court ordered community labor." She has asked the court to order Brown to fulfill his obligation in Los Angeles County.
Suspicion arose over Brown's completed community service hours because of alleged discrepancies in his probation reports and lack of documentation.
Article continues below advertisement
As part of Brown's probation, Judge Patricia Schnegg ordered him to perform 180 days of community service, and permitted him to carry it out in Virginia, where the hip hop star has a residence.
L.A. prosecutors allege in their motion that Brown's logged community service hours include times he worked at a children's center where his mother was employed, but that the center's director told investigators from the DA's office that she never saw Chris perform any actual work, and wasn't told when he did.
However, as previously reported, Brown's attorney Mark Geragos told the Los Angeles Times, "Apparently the District Attorney's Office has completely lost their minds. They are making scurrilous, libelous and defamatory statements and apparently have lost the ability to read their own reports."
The issue of the status of his community service remains unresolved.
Norwood had served as the police chief of Richmond, Virginia since 2008, although he had been rumored to be in the running for a similar job in Raleigh, North Carolina. Mayor Jones says he and Norwood mutually agreed that Norwood's time as police chief would come to an end.
The Mayor named Ray Tarasovic, former assistant police chief, as the new police chief.