MAJOR Oops Moments! 10 More Of The Worst Celebrity Makeup Malfunctions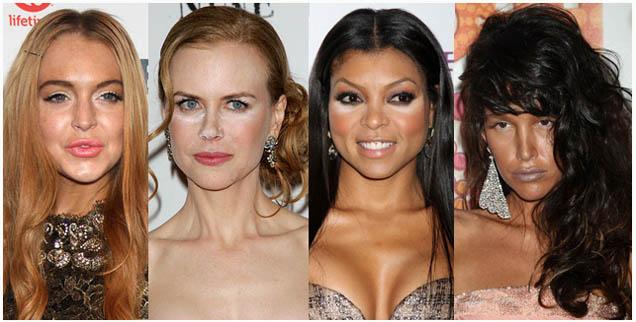 Even celebrities can't avoid really embarrassing moments with their makeup!
From overly powdered faces to outside-the-lines lipstick, Hollywood's hottest stars have experienced MAJOR malfunctions and mishaps with makeup over the years! RadarOnline.com has photos of 10 stars looking far from flawlessly faced.
Uma Thurman and Nicole Kidman may have makeup artists, publicists and managers who check them out before they hit a major red carpet event, but even with all their handlers the two beauties still experienced the ultimate embarrassment when they were snapped with their faces covered in unsightly white powder.
Article continues below advertisement
Boardwalk Empire bad girl Paz de la Huerta seems to have a majorly messy moment at nearly every event she hits, and at the Emmy Awards in 2011 it was courtesy of her really bad makeup look.
Lindsay Lohan and Pamela Anderson need to learn that less is more when it comes to makeup – and that when you wear too much you look worse than when you aren't wearing any!
Keeping up with the Kardashians worst moments in makeup! Kim and big sister Kourtney have both shown off far from flawlessly faced looks over the years.