Sean Who? Nixed Bachelor Vixen Tierra Licausi Is Engaged To Another Guy, Confirms Brother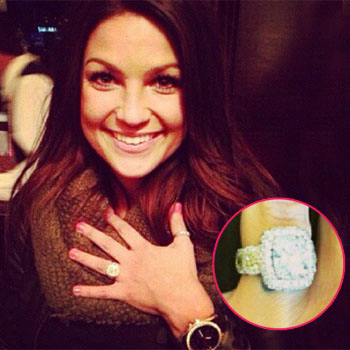 Hot on the heels of the bombshell revelation that her ex-boyfriend died from a drug overdose after she callously abandoned him, shunned Bachelor contestant Tierra Licausi is now flaunting a massive engagement ring from yet another man.
"Yes, she's really engaged," Tierra's older brother, 29-year-old Tyler Licausi exclusively told Wetpaint. "We're all really happy about it."
And no, Sean Lowe is not the lucky – or should we say "unlucky" guy? Rather than it being a shocking twist in Season 17 of the hit ABC show, the Denver native is set to tie the knot to the mystery man whom she was dating before she tried to become a reality star!
Article continues below advertisement
"It's someone she had been seeing before the show. They've known each other three or four years and have been dating most of that time," Tyler explained. "They were even living together in Las Vegas and Tierra was, at one point, working for his family's business.
"When he found out she was filming the Bachelor, he did everything he could to try to get to her. He even called ABC to find out where she was filming so he could fly there. He was literally on his way to St. Croix the day he finally reached her," revealed her big brother. "It turns out, that was the exact same day Sean let her go."
So instead of a Caribbean trip, the pair were reunited in Colorado in November and have been together ever since.
As for the ring that was slipped onto Tierra's finger last month, "It is kind of insane. The main stone is a four-carat yellow diamond and it's surrounded by a set of white diamonds," Tyler told Wetpaint.
Lets hope this romance has a happier ending than her five-year relationship with David "Casey" Reese, who reportedly committed suicide after Licausi dumped him following his father's 2007 death.