Forget 'Catfish' & Manti Te'o: Spencer Pratt Explains Why He Created His Own Imposter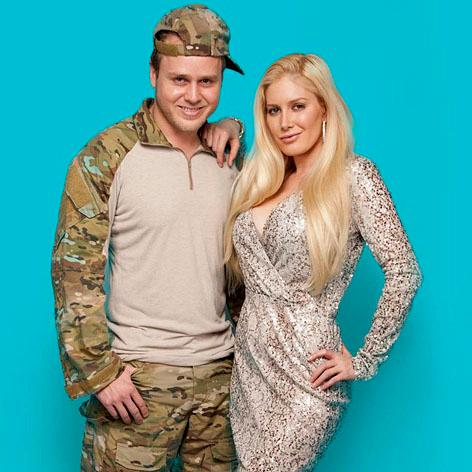 When Spencer Pratt began quoting classic poetry via Twitter, most celebrity-savvy onlookers knew that undoubtedly the reality TV star was once again up to some sort of mischief.
At a time when Manti Te'o was still known only for his football skills and "Catfish" not yet part of the national lexicon, Pratt launched his latest scheme on Jan. 1, 2013 by having wife Heidi Montag announce that Spencer had lost his phone.
Article continues below advertisement
What followed, Pratt explains to RadarOnline.com, was "netprov," a project borne from a University of Southern California writing class and perfectly tailored to take advantage of his unquestionable skill at bending people's perceptions.
"Of course, playing with people's image of me is one of my favorite hobbies," Spencer told RadarOnline.com in an exclusive interview.
After Montag's announcement about Spencer's lost phone, in the next few days Spencer's tweets seemed, well, very un-Spencer like.
At the time Spencer and Heidi were preparing to star on Britain's reality TV show Celebrity Big Brother and when Spencer asked via Twitter for local bookstore recommendations it was clear to some that a new game was being played.
Spencer insisted he was in control of his account but the no-sense-of-humor producers of Celebrity Big Brother spoiled that by publicly announcing there was no tweeting allowed from the house.
Article continues below advertisement
The "Spencer" tweeting from Pratt's account eventually revealed himself to be a British wannabe poet torn by his love for two women and the game was on, with account followers dubbing the new Spencer "Tempspence."
"The basic premise was to pretend an obscure British poet had found Spencer's mobile and then to have a bit of a Prince and the Pauper story, while playing some word games with Spencer's followers," explained Mark Marino, who taught the writing course attended by Pratt at USC. "The goal was to tell a story of the least Spencer-like man in England getting to be Spencer for 3 weeks."
Marino and Rob Wittig wrote the "netprov" as a new art form and executed it as Spencer and Heidi were locked in the Celebrity Big Brother house. "Tempspence" engaged his audience with poetry games, all while longing to rise from obscurity and telling the story of his love for two women.
Spencer told Radar: "When Mark (Coach) Marino showed me netprov in our writing class at USC, it just all made sense with my experience on Reality TV: playing characters, improvising, all of it.
Article continues below advertisement
"Since I knew I would be offline for the duration of CBB (Celebrity Big Brother), it seemed like a great opportunity to play one through the @spencerpratt account.
"We realized we had a chance to do something deeper than the character I typically play, maybe screw with my image by introducing some literary games and some irony. "
Spencer's followers responded enthusiastically and that has energized him – watch out world –to take the art form to a new level.
"Mark and Rob are planning more netprovs," Spencer told Radar. "It's exciting to watch this form emerge. I'm looking forward to getting to play.
"It proved that my Twitter followers are incredibly creative. The poetry they wrote, the Tempspence poets, it's terrific to see."
Identity and the perceptions surrounding identity were the key to everything.
"I'm a Reality TV personality and people often confuse the person I play with me," Spencer said. "That's part of the game. So what better way to challenge that then to have two college professors tweeting out of @spencerpratt. I think this might be the first time a Reality TV star's Twitter account was used to allude to Edmund Spenser, unless you count that time Kim Kardashian started quoting 'Visions of the worlds vanitie,' but maybe I was dreaming that."
We're pretty certain you were, Spencer.