Lindsay Lohan Pays Her Bills By Playing The Real-Life Role Of A High Class Escort!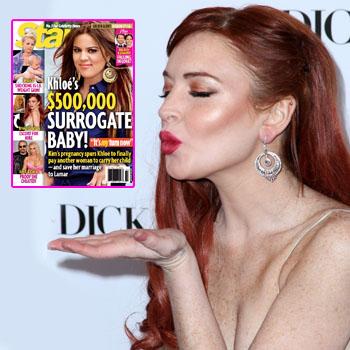 Desperate for money, troubled actress Lindsay Lohan is still living the high life by working as a professional escort, her father Michael Lohan and other insiders exclusively revealed in the new issue of Star magazine.
"She is getting paid to date rich men," Michael said of his 26-year-old daughter. "Dina (Lindsay's mother) is pimping her out – it's disgusting!"
And it's not just the Mean Girls star's estranged dad who is dishing on her new source of income.
Article continues below advertisement
"The dates last for days, and the guys pay for everything – hotel, travel costs, food, whatever – as well as jewelry and other gifts," someone close to the actress revealed.
So far, no one is suggesting that Lohan is doing anything more than act as arm candy for the rich playboys who like to be seen with beautiful and famous women.
One of Lindsay's most high profile clients is the man who is third in line to the throne of Brunei, a small country in Southeast Asia: Prince Haji Abdul Azim.
A billionaire playboy who loves American celebrities, he allegedly paid Lindsay a whopping $100,000 to join him in London for a New Year's celebration.
And wealthy Spanish-American painter Domingo Zapata reportedly supported the troubled actress for much longer than a holiday.
"Domingo let Lindsay live in his penthouse at the Bowery Hotel in NYC for free and at his L.A. pad at Chateau Marmont for months," says one of his confidantes. "They're both super swanky. No way Lindsay could've afforded either of them for such long periods of time on her own."
For the full scandalous story, the new issue of Star magazine is on newsstands Thursday.