LeAnn Rimes Fires Back: 'Boys & Girls I Was Not Crying Yesterday'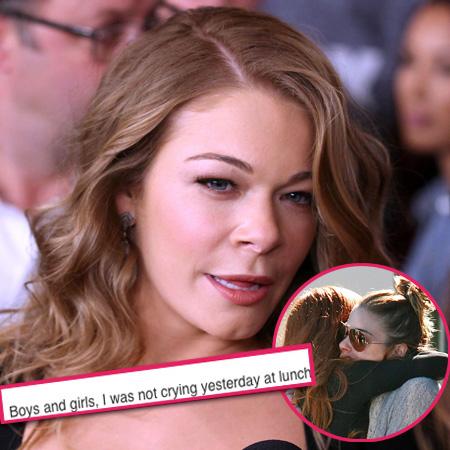 It appears Twee-hab just isn't sticking.
A day after photos of an apparently sobbing LeAnn Rimes circulated online, the country singer -- you guessed it -- took to Twitter early Tuesday to deny the subsequent reports, and quash speculation as to what caused what looked like an emotional outburst outside of a Los Angeles restaurant Monday.
"Boys and girls, I was not crying yesterday at lunch w/ @darrellbrown @EddieCibrian my BFF liz and my little dog toto. :) we ate and hugged goodbye.
Article continues below advertisement
"I must have been so sad to see all of them go 3 blocks to the establishment where we were all ending up," LeAnn wrote.
LeAnn punctuated the denial with the hash tag, "#givemeabreakwiththebulls**tmeadiaheadlinesandstories," and ended by saying "Lol thanks for all the sweet concern tough," in the tweet, which she inadvertently sent out three times.
A rep for LeAnn said that indeed the singer was not crying but sneezing in the photo where she appears to be emotionally upset.
LeAnn later followed up tweeting, "Best part of the day.... Taking coffee to my hubby in bed.....insert BAD jokes/thoughts here lol."
LeAnn had yet to comment on Brandi Glanville's searing comments during a book signing Monday night in West Hollywood, where The Real Housewives of Beverly Hills star said that the singer "can go f**k herself," and sniped that no one else would want to.