Kimora: House Of Fab Premieres On Style Tonight!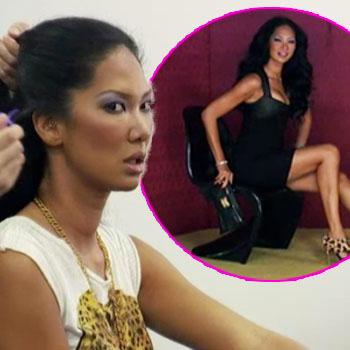 Kimora Lee Simmons makes her return to TV Wednesday on Style's Kimora: House Of Fab, which showcases the inner workings of her Los Angeles-based fashion house, Just Fabulous.
From sexy stilettos to classic boots and bags, Just Fabulous provides catwalk-relevant fashions at essentially-wholesale prices, as the company works directly with manufacturers -- cutting out the middlemen and department store markups -- and passing on the savings to the consumer, with all styles of shoes at the ridiculously-low price of $39.95.
Article continues below advertisement
Kimora, the president and creative director, oversees her team (senior graphic designer Johnny "Mr. Fabulosity" Anastacio, senior marketing manager Lianca Lyons and public relations coordinator Ashley Hildebrandt) on the program.
Just Fabulous employees are both passionate and proud of their work, as Hildebrandt said that "the best part of the job is seeing your work make people happy.
"I love seeing bloggers enjoying our shoes and bags and writing positive reviews about our company, and I am so proud when magazine editors take our suggestions and feature our products in their articles," she said.
Lyons said she loves working at Just Fabulous because of the "fun work environment and my co-workers.
"My relationship with Kimora has organically morphed into a very endearing relationship," she said.
Anastacio said, "There's definitely a company culture here. We're kind of like a fabulous Brady Bunch.
"Kimora is so inspirational and a very smart business woman … I just love being around her and her fabulosity! I think I'm able to absorb some of it when she touches me!"