Kimora's Luxe Life For Less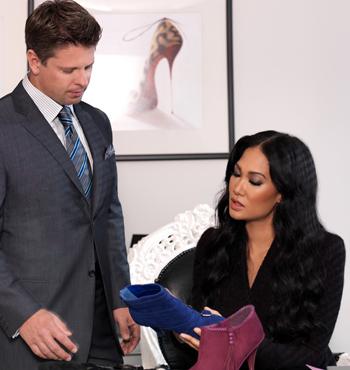 You know you've arrived when they name a cocktail after you. So when JustFabulous party guests, including Christina Milian, Shenae Grimes and "Miss J" Alexander, sipped Kimora-Tinis (passion fruit juice, mango puree and vodka) at West Hollywood's Sunset Tower Hotel, the guest of honor, Kimora Lee Simmons, was able to relax and bask in her sweet success.
In the three months since the party celebrating Kimora's new role as president and creative director of the JustFabulous online accessories boutique, there's been little time to relax. "I answer customer service e-mails in the middle of the night," admits Kimora. "It's so important to me that we get it right."
Article continues below advertisement
There's no question that Kimora has the chops for the job. A Chanel model at the tender age of 13, she has kept at least one stiletto in the fashion world ever since. "Working with every great designer and being on every great runway and the pages of every major magazine gave me a sensibility of what women want and what they love and how they want to dress," says Kimora.
After parting ways with the Baby Phat brand, Kimora was ready for a new venture. Enter Don Ressler, co-CEO of Intelligent Beauty, the nearly billion-dollar L.A.-based company that owns JustFabulous, SENSA Weight-Loss System (Millionaire Matchmaker Patti Stanger serves as its spokesperson) and DermStore.com. Ressler was thrilled that Kimora was available. "My business partner and co-CEO, Adam Goldenberg, and I were looking for the right person to guide our fashion voice, and she was looking for her next home in fashion," Ressler tells Star. "We couldn't have found a more perfect fit."
The Just- Fabulous philosophy is that every woman deserves to wear the same fashion-forward designs as the rich and famous. So every chic pair of shoes, handbag, piece of jewelry and pair of jeans sells for just $39.95.
We asked Ressler, how's that possible? "Unlike a traditional retailer or brick-and-mortar store, we have the ability to cut out the middleman. We work with manufacturers who are making shoes and bags that sell for over $100, but by selling our own brand directly we can offer such affordable prices to our members."
With last-minute holiday shopping in full fury, Star recommends a JustFab.com gift card that can be delivered instantly to your loved one's Inbox. Now, how fab is that?