Kate Middleton's Mom Blasted For Cashing In On Royal Baby!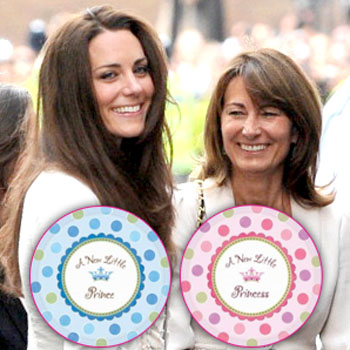 Article continues below advertisement
A writer for the UK Newspaper the Daily Mailblasted Carole's "exploiting the impending birth" of Kate's baby.
"It is tacky, tasteless and vulgar — and from what I know of William and Kate, I would expect them to be highly embarrassed," Michael Thornton wrote about the miniature castles, plates for 'A New Little Princess' and 'A New Little Prince,' and other royal baby-themed products.
"It would appear the arrival of their first grandchild has been seen by Kate's parents as a marvellous business opportunity.
"Let me be frank: this money-making ploy on the part of the already wealthy Middletons brings a shudder of distaste and unease to all those who admire their royal daughter."
The company website touts the products, saying: "It's a great occasion to celebrate before the new arrival, inviting family and friends along. Such a celebration allows other mothers to share their wisdom and own knowledge of becoming a mother."
Article continues below advertisement
Thornton says that Carole, who has been accused in the past of profiting from her daughter's royal marriage, surely knew that she would face backlash for selling the products.
"It's hard to believe it did not occur to the Middletons that this would be seen as a cynical attempt to cash in on their daughter's pregnancy.
"It is not as if they need the money. Conservative estimates by City analysts put the value of Party Pieces at £40  million $65 million. They own a £4.7 million $7.6 million, seven-bedroom Georgian house in Berkshire, set in 18 acres of landscaped grounds, and a £1.6  million $2.6 million Chelsea flat."
Do you think it is tacky of Carole Middleton to try and cash in on her daughter Kate's royal baby? Tell us in comments!