Exclusive
Jason London Severely Injured, Was 'Brutally Attacked' -- Claims Eyewitnesses Will Prove Wrongful Arrest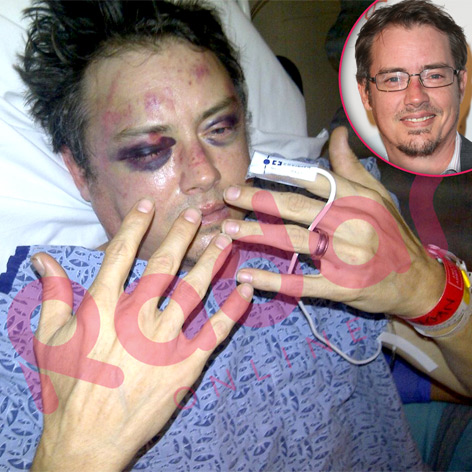 Dazed & Confused star Jason London was arrested on Sunday morning outside an Arizona bar for disorderly conduct, fighting and assault, but in an exclusive interview with RadarOnline.com, a rep for the actor says he was brutally attacked and unlike the police report states, he did not punch a bouncer in the face.
According to the police report, authorities were called to the Martini Ranch in Scottsdale on Sunday morning at 1:42 a.m. and found Jason beat up, and the bar's bouncer told them after Jason punched him in the face, they were forced to throw him out of the bar and he was hurt in the process — but Jason's camp has a very different account of the incident.
Article continues below advertisement
"The details of the events leading up to the incident are still being worked out with the help of many eyewitness testimonies, with the testimony of individuals who were there with Jason for the duration of the evening, and with the recollection Jason does have. We will get to the bottom of the specifics undoubtedly," a rep for Jason told RadarOnline.com in an exclusive interview.
"The charges against Jason indicate that he is the assailant in a 'Multiple Victim Assault,' as described by the bouncers to the arresting officer. It is a fact of note that Jason does not have one bump, bruise, red mark - not so much as a scratch - on his hands."
As seen in the photo exclusively obtained by RadarOnline.com of Jason in the hospital, Jason sustained considerable injury to his face, but shows no marks on his hands consistent with throwing a punch at the bouncer, as is claimed.
"His face however sustained injuries which are indicative not of his 145-pound frame assaulting four 250+ pound bouncers but rather indicate a repeated, intentional, aggravated assault where excessive force was used," the rep continued.
Article continues below advertisement
"Additionally, assuming that these four bouncers are trained fighters, which most are, that quickly becomes assault with a deadly weapon. Jason's injuries clearly demonstrate skilled and intentionally inflicted injury and harm."
Jason, 40, remains in the hospital and is being treated for a right orbital fracture, which extends down through his cheek and into his upper jaw and mouth, a right maxillary sinus fracture, multiple contusions, multiple hematomas, concussion, multiple abrasions and a lot of swelling.
MORE ON:
Celebrity Justice
"We do know that the police arrested Jason on charges of suspicion of a multiple victim assault based on one bouncer's account and that one of the other bouncers corroborated his buddy's story," the rep continued.
"Since that time witnesses have come forward to give an entirely different account of what they saw that does not match in any way the report given by the bouncers."
While Jason's camp admits he was drinking the night of the alleged assault, they claim any belligerent or rude comments made by Jason absolutely didn't warrant the injuries he sustained.
Article continues below advertisement
"This was not the result of injuries sustained due to a belligerent patron during routine removal. These are injuries sustained of a brutal attack using excessive force and deliberate and intentional beatings designed to injure and cause maximum damage. Which they did," the rep said.
"Bars are institutions where there are drunk people who are sometimes inappropriate and even sometimes violent. It is the bouncer's job to remove the problem and if it is necessary to use force in order to secure the safety of the establishment and patrons they are entitled to do so.
"It is not acceptable to retaliate with brutality once that has been accomplished. Jason's injuries are consistent with a brutal attack with deliberately and expertly aimed landed shots to the head which, according to eyewitnesses, continued even after he was unconscious."
The rep claims eyewitnesses at the bar have given no testimony that Jason was being "inappropriate or aggressive in any way."
"Jason does remember in the midst of having a good time that someone said something about Jason looking at his friend's girl wrong," the rep said.
"Then he remembers being grabbed and dragged. The next thing he remembers he was coming to and the cops were arresting him."
Stay with RadarOnline.com as the story develops…