Celebrity Twitter Pics Of The Week! The Good, The Bad & The Outrageous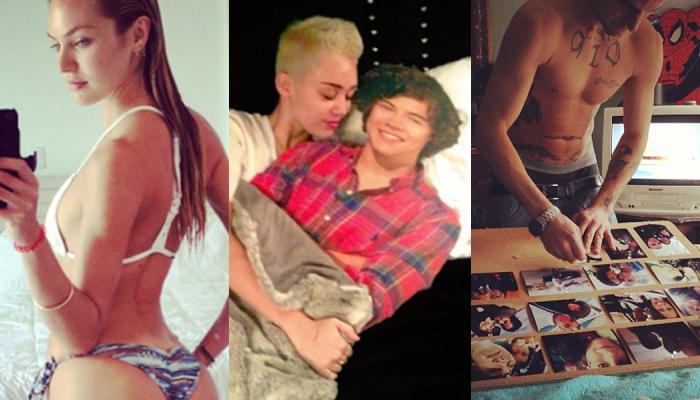 Who were the most snap-happy stars of the week?
From backstage at the People's Choice Awards to the privacy of their bedrooms, Hollywood's most sizzling stars were not shy about sharing their personal photos on social media this week – for better or for worse! RadarOnline.com has all the good, the bad and the most outrageous Twitter photos of the week in our special Friday feature.
Hot hostess Kaley Cuoco showed off her gorgeous glow, courtesy of Infinity Sun, from backstage of the People's Choice Awards, while Ryan Seacrest's main squeeze, Julianne Hough beamed from inside of her limousine on her way there.
Article continues below advertisement
She's just being Miley! Cyrus showed off her comedic side, hopping in to bed with a cutout version of Harry Styles, after it was revealed that the boy-bander had split with Taylor Swift.
As for sexy, Katherine Webb shared an adorable snap of herself and her quarterback beau AJ McCarron before the big game that spawned her into an overnight sensation, Candice Swanepoel got cheeky in a seriously sexy Brazilian cut bikini, Coco got bootylicious (as usual!) and Sofia Vergara shared a vintage stripped down snap.
For the rest of the good, the bad and the most outrageous Twitter photos of the week, click here.b