Snowmobile Star Caleb Moore Dies A Week After Horrific X Games Crash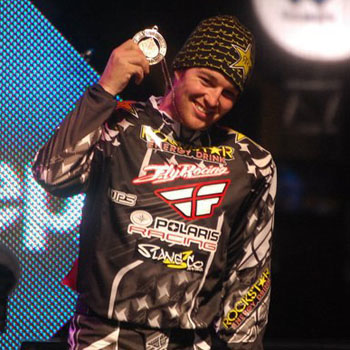 After spending a week in critical condition following a dramatic crash at the Winter X Games, snowmobiler Caleb Moore died Thursday, at the age of 25.
The extreme sports champ had been at a hospital in Grand Junction since the horrifying accident in Aspen, Colorado, on January 24 when the skis on his 450-pound snowmobile caught the lip of the landing area during a back flip and sent him flying over the handlebars into the snow, with the heavy vehicle landing on top of him.
Article continues below advertisement
Moore, of Krum, Texas, walked tentatively away from the scene and was treated for a concussion, but then developed bleeding around his heart and was flown to the hospital for surgery, where doctors also discovered complications with his brain, reported ESPN.com.
Incredibly, moments after his accident, Caleb's bother, Colten, 23, crashed on the same spot and was treated for a separated pelvis.
After the news of his death was announced, X Games officials expressed their condolences and said Moore, a four-time X Games medalist, would be remembered "for his natural passion for life and his deep love for his family and friends."
Fellow snowmobile rider Levi LaVallee recently described Moore as a "fierce competitor."
"A very creative mind," LaVallee said of his competitor. "I've watched him try some crazy, crazy tricks and some of them were successful, some of them not so much. But he was the first guy to get back on a sled and go try it again. It shows a lot of heart."
X Games officials have announced that they plan to conduct a thorough review of freestyle snowmobiling events and adopt any appropriate changes.