Adrienne Maloof On 'Difficult' Season Of RHOBH: 'I Am NOT the Biggest Fan of Drama'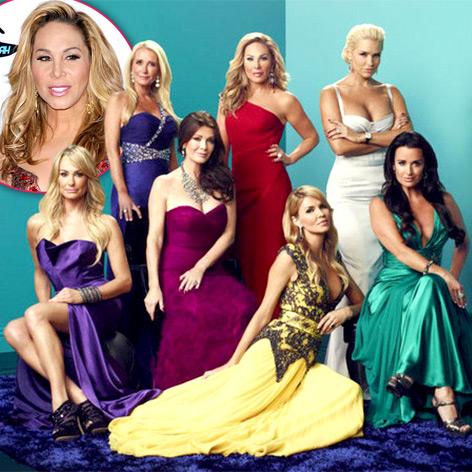 Oh really?
The Real Housewives of Beverly Hills star Adrienne Maloof says she's not -- make that NOT -- a drama queen.
Maloof - who recently got divorced from her husband Dr. Paul Nassif and has been involved in a nasty feud with castmate Brandi Glanville -- writes in her latest blog entry on Bravo's website:
"This season has been particularly difficult for me. I think all of you know that I am NOT the biggest fan of drama."
Article continues below advertisement
Maloof also writes about her feud with the outrageous and outspoken Brandi, who told the other housewives very personal information about her – a family matter she wanted to keep private for now.
She writes: "A few of the women are comparing this situation with the disagreement between Russell and Camille. For me there is one key difference and that is the direct involvement of my innocent loved ones who were NEVER supposed to be part of the drama. With Russell and Camille all parties involved were adults and capable of defending themselves. Any mother would agree that protecting young children is of the utmost importance. I still believe that friends don't sue friends, but Brandi has made it abundantly clear that she is not my friend.
Maloof – who's now dating Rod Stewart's much younger son Sean - ends her blog on a positive note, writing, "I'm finding happiness in 2013 and am focused on surrounding myself and my family with positivity. I want to sincerely thank my dear friends Faye, Camille, Kyle, Kim, and of course Mauricio for being so supportive through these difficult times."
The Real Housewives of Beverly Hills airs Mondays at 10/9c on Bravo.