The 411 On Sean Stewart! 7 Things You Didn't Know About Adrienne Maloof's Boy Toy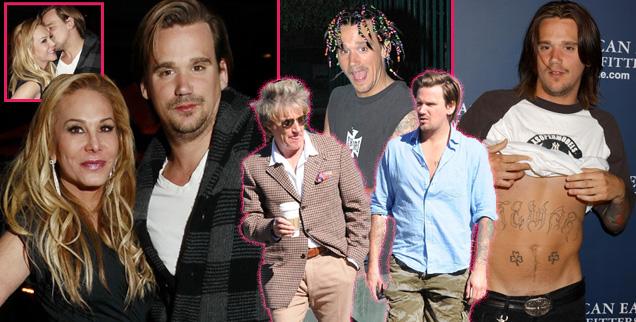 Article continues below advertisement
2. Sean hoped to follow in his father's legendary rock 'n' roll footsteps by pursuing a career in music. His song, The In Crowd, appeared on his reality show as well on the Bratz soundtrack.
3. In addition to dating Jasmine Waltz his former fiancees include Jon Peters' daughter Caleigh and Baseball Wives star Chantel Kendall, who was nine years his senior.
4. He attended the famed Beverly Hills High School and was a fixture on the Hollywood nightclub circuit for several years, palling around with fellow 90210 zip code rich kids Paris Hilton, Nicole Richie and Brandon Davis.
5. His mother is Alana Hamilton Stewart, the former wife of tan man George Hamilton; his half-brother is Ashley Hamilton and Kimberly is his only full-blooded sibling.
6. He has been arrested several times over the years for assault and has admitted to struggling with substances such as heroin, pills and alcohol. After being sued by his personal trainer, he was even featured on an episode of Judge Pirro.
7. He likes his ladies older than his stepmoms! At 51, Adrienne Maloof is eight years older than his former stepmother, Rachel Hunter, and ten years older than his current stepmother, Penny Lancaster!