Bad Santa! Hilarious Look At The Creepiest Clauses To Haunt Children's Nightmares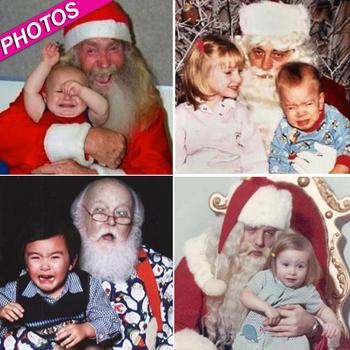 By Debbie Emery - RadarOnline.com Reporter
Meeting Santa Claus should be the happiest day of a child's year, but many little kids look downright traumatized when they get stuck sitting on a stranger's lap being forced to spill their Christmas wishes.
From Father Christmases who look like they've had too many shots of whiskey under the tree, to holiday hobos who look like they went straight from skid row to a local mall, RadarOnline.com has photos of the creepiest Kris Kingles thanks to the comedic geniuses at Heavy.com
Article continues below advertisement
One poor little boy gets a white-eyed zombie as his Father Christmas, which brought the inevitable tears and screams of terror as he sat on the pale-skinned Santa's lap.
In another hilarious shot, a pair of siblings smile sweetly as Santa looks doped-up behind them, barely able to keep his eyes open.
And then, a happy couple is pictured clearly enjoying the festive season, oblivious that a lecherous Claus was ogling the girl's boobs over his shaggy white beard.