Samuel L. Jackson Drops F-Bomb On 'Saturday Night Live'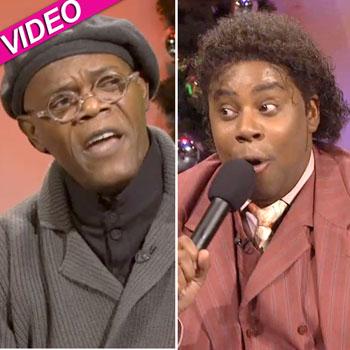 Appearing in the faux B.E.T. show within the show, What Up With That? Christmas Spectacular, Samuel L. Jackson spoofed himself -- and then some -- on Saturday Night Live.
Jackson was appearing on 'What Up' to promote his charitable foundation but 'host' Kenan Thompson kept interrupting him with musical numbers.
"Don't you dare cut me off! F**k!"Jackson, playing a pitch perfect caricature of himself, finally yelled.
Article continues below advertisement
The camera immediately went to the fabulous Thompson, who almost lost it. "Come on Sam, that costs money," he laughed, a reference to a possible FCC fine.
NBC has since muted the offending word, but Jackson is having fun with it. "I only said FUH not F--K! K was sposed to cut off da BULLSHIT, blew it!!" he tweeted after the show.
Either way, you can watch it here!
RELATED STORIES: