Presley Family All Shook Up! Lisa Marie and Priscilla At Odds Over Riley Keogh's Partying, Claims New Report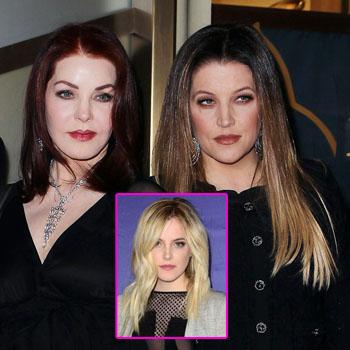 Priscilla Presley believes her daughter, Lisa Marie is not doing enough to curb her own daughter Riley Keogh's hard partying, according to a report in the National Enquirer.
The family matriarch is concerned that her 23-year-old granddaughter has become a hard-core partier who smokes, drinks and hangs out in Hollywood nightclubs with a much older crowd, according to the Enquirer.
However, despite agreeing with her mom, Lisa Marie reportedly thinks she should mind her own business!
Article continues below advertisement
"Butt out of my life! She's my kid and I'll raise her the way I see fit! You didn't do such a bang-up job yourself – so stay out of it!" a source told The Enquirer they overheard Lisa Marie screaming at Priscilla.
Meanwhile, attempts that Lisa Marie has made at calming her wild child daughter's ways have reportedly led to blazing arguments between them too!
"Riley is definitely acting out – and she's the reason why Lisa Marie and Priscilla are at war," a family source alleged to the Enquirer. "Lisa's way too lenient with her, and Priscilla is fighting to rein Riley in before she ends up in rehab, pregnant, or worse – as another Hollywood casualty."
MORE ON:
Lisa Marie's Downward Spiral