Pete Rose And Fiancée Looking For New Hit On Reality Show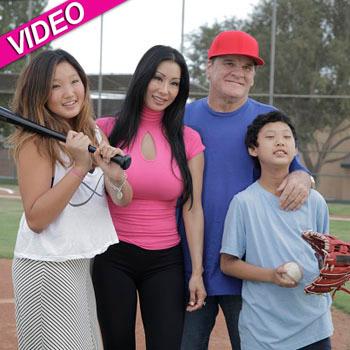 Scandal-plagued baseball legend Pete Rose, 71, is starring in a new TLC reality TV show with his sexy 30-ish former Playboy model fiancée, Kiana Kim.
Rose, baseball's all-time hits leader who was banned from the sport for gambling on games, will now try to score a reality TV smash with "Hits & Mrs."
The major theme of the show, premiering Jan. 14 at 10 p.m. on TLC, will be his relationship with Kim, who is around 40 years younger (although she won't reveal her exact age).
Article continues below advertisement
Rose told The New York Post that their age difference is no problem. "The way I read this situation, she doesn't care how old I am, she cares how young I act and how young I look," he declared.
In a video clip from the premiere episode, Rose and Kim are seen wrangling about a wedding date, with baseball's Charlie Hustle saying they'll walk down the aisle "in 2029!" But Kim tries on a wedding dress on the show, which has a six episode order.
Viewers will also see how Rose and Kim juggle their life with her two kids, daughter Cassie, 14, and son Ashton, 11, and deal with his ban from the sport he loves.
Rose, who, as RadarOnline.com has previously reported, filed for divorce last year from his second wife, said he met Kim at a Mercedes dealership about five years ago. The Playboy model didn't recognize him. "She was beautiful," Rose said. "I said to her, 'If you ever wanna come to Vegas, I have some contacts at Caesars. I'm sure I can get you and a girlfriend accommodations. Here's my number, let me know."
You can watch the clip here and tune in to TLC January 14 to find out if Pete and Kiana's relationship turns into the War of the Roses!
RELATED STORIES: