Gun Advocates Want Piers Morgan Deported 'For Attacking 2nd Amendment'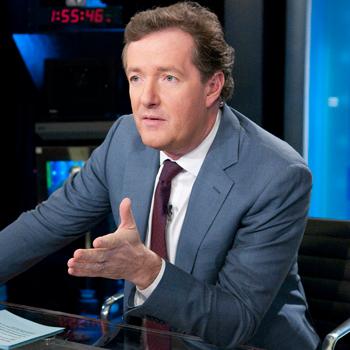 Hopefully Piers Morgan has his papers in order!
Critics of the Surrey, England native are up in arms over his comments about gun control and they've started a petition to have the CNN host deported from the United States.
As RadarOnline.com reported, Morgan came out with guns blazing Tuesday night when he repeatedly clashed with a gun proponent who advocated allowing teachers to carry weapons in the classroom in wake of the school massacre in Newtown, Connecticut.
Article continues below advertisement
At one point, the outspoken Brit said to his guest: "You're an unbelievably stupid man, aren't you?"
Now pro-gun advocates are firing back, by launching an effort to send the Piers Morgan Tonight anchor packing.
Their petition, which has been submitted on a White House website, had 23,983 signatures on Sunday afternoon, just short of the 25,000 needed before the White House is required to address the petition.
The deport Morgan petition reads:
"British Citizen and CNN television host Piers Morgan is engaged in a hostile attack against the U.S. Constitution by targeting the Second Amendment. We demand that Mr. Morgan be deported immediately for his effort to undermine the Bill of Rights and for exploiting his position as a national network television host to stage attacks against the rights of American citizens."
MORE ON:
hollywood happenings
Article continues below advertisement
But 47-year-old Morgan is taking it all in stride. He tweeted: 'Ironic U.S. gun rights campaign to deport me for 'attacking 2nd Amendment rights' - is my opinion not protected under 1st Amendment rights?''
He followed it up with a link to the petition, writing: 'Just 4821 signatures needed to take my deportation petition to the point Obama has to respond. I urge you to sign.'
Morgan even went as far as to retweet one critic's post and corrected the man's grammar.