Bottom's Up! Drew Barrymore Plays 'Pinot Pong' With Chelsea Handler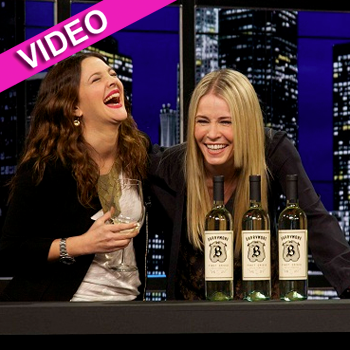 We've heard of beer pong -- but Pinot pong?
When new mom Drew Barrymore stopped by Chelsea Lately Tuesday night, the Big Miracle star, who's also now a wine maker, played a familiar college drinking game with the boozy E! talk show host -- although, their version of the game had a twist.
Handler introduced the bit by saying: "Unlike my other guests who just bring alcohol and don't make me work for it, she said that I have to work for my Pinot Grigio... and so, get up... I've never played this before.."
Article continues below advertisement
"I haven't either," exclaimed Drew.
The two then played a hilarious game of 'pinot pong.'
Watch the video on RadarOnline.com
During their interview, Barrymore, 37, gushed about becoming a first-time mom and talked about her decision to become a winemaker, saying: "I've always loved wine…I mean...it's wine!"
Handler -- whose books include Are You There Vodka? It's Me, Chelsea -- said: "I'm glad you picked a white wine because I feel like a dick whenever I drink red wine."
Barrymore surprised the audience by giving everyone a free bottle of her wine! To find out more about her vintage, visit Barrymorewines.com
Chelsea Lately airs weeknights at 11/10c on E!
youtube