Bow & Arrow Killer Claimed His Father Gave Him Asperger's Syndrome, Should Have Been 'Castrated'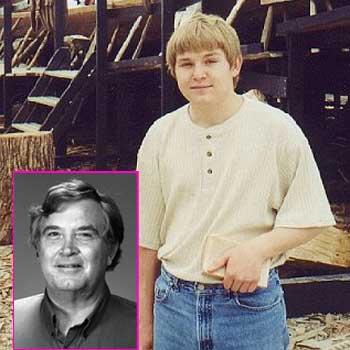 Christopher Krumm, who killed his father with a bow and arrow before committing suicide, shockingly claimed he had Asperger's syndrome and his father "should be castrated" for passing the condition to him.
The 25-year-old murderer, who also stabbed to death his college professor father James Krumm's girlfriend, math teacher Heidi Arnold, in Casper, Wyoming on Friday, had revealed troubling thoughts some time ago to a neighbor, Matt DiPinto.
Article continues below advertisement
Speaking to the Hartford Courant, DiPinto disclosed of Christopher, "He told me his dad gave him Asperger's syndrome, that his dad shouldn't have passed it on. He said his dad should be castrated. I didn't know him that well, he just kind of said it out of nowhere, so that kind of threw me off a little."
Asperger's syndrome is a form of autism and is characterized by the inability to have normal social interactions.
As RadarOnline.com previously reported, after raveling to Wyoming from his home in Connecticut, Christopher killed Heidi outside her apartment and then headed to Casper College, where his dad was teaching a class.Horrified students witnessed the deranged son shoot James in the head with an arrow. Christopher then stabbed himself and stabbed his father. Christopher later died at a nearby hospital. Police who arrived at the college found James dead.
Article continues below advertisement
Teacher Mickie Goodro, who had taught Christopher advanced calculus, told the Courant he was one of the smartest students she'd ever had "but his social skills were not wonderful."
On Friday night, a bomb squad assisted police in Vernon, Connecticut in searching Christopher's apartment. Cops carried several boxes out of the seedy rooming house.
RELATED STORIES:
Bullied 12-Year-Old Tourette's Sufferer Turns The Tables By Becoming A Motivational Speaker