Say 'Cheese!' Couple Finally Gets A Wedding Photo - 90 Years After Marriage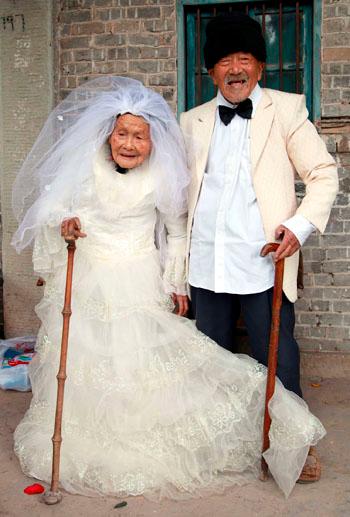 By Debbie Emery - RadarOnline.com Reporter
The bride wore white and the groom had a cheeky grin on his face as he clutched her hand tightly, but there won't be any wedding night surprises for this happy couple!
Wu Conghan, 101, and wife Wu Songnshi, 103, from Nanchong Sichuan province, got married nearly 90 years ago when in China traditions such as wedding day portraits didn't exist for common people because cameras were reserved only for the privileged and wealthy.
Article continues below advertisement
With a combined age of 204, they have finally gotten their opportunity to show off their love in front of the cameras, thanks to a campaign aimed to help the elderly get the wedding photos of their dreams, reported ABCNews.com.
After a lifetime of anticipation, Songnshi wore a full length, white wedding gown with a long veil and clutched a bouquet of red roses, while her lucky husband donned a white coat and black bow tie.