There's No Debate! Romney & Obama Agree: You Still Have Time To Be Picked For New Reality TV Show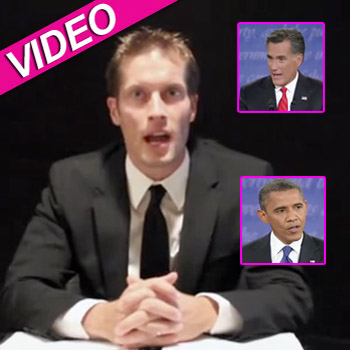 They are usually on opposite sides, but here's one thing that President Barack Obama and his challenger Mitt Romney agree on: you still have time to become a contestant on a hot new reality TV show!
Well, it appears that Mitt and the prez are enthusiastic about the show – thanks to a clever new video by Brad Woodgate, creator of The Entrepreneur in Me, the reality show that can give you the opportunity to win a six-figure salary and 25 percent of a business.
Article continues below advertisement
Watch the video here on RadarOnline.
Woodgate is looking for 10 people who will be given the same great business idea and same amount of cash to start on their venture. It's up to them – or you – to make a success out of the business idea. At the end of the show's 10-week run the winner collects the cash and a percentage of the business.
So far Woodgate has had an overwhelming response, with 200,000 views of his first video about the show. And in his new video he asks, "What do you guys think of this kind of response?" The video then cuts to Romney (from a presidential debate) who says: "It's absolutely extraordinary."
Brad founded the multimillion dollar nutritional supplement company Wellnx Life Sciences and is behind products like celebrity favorite NV Diet Pill and Slimquick.
Now he's taking his successful track record to reality TV and you can be a part of it – sign up for the show at www.theentrepreneurinme.com.