Kim Kardashian's Kuwait Trip Outrage: 'Visit Could Help Spread Vice Among Our Youth' Claims Religious Leader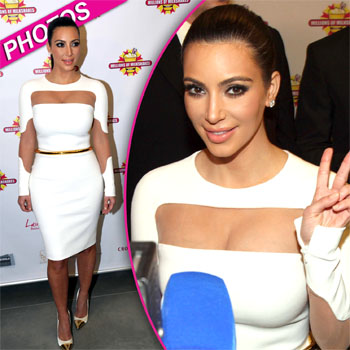 Things are heating up in the Middle East yet again, this time thanks to Kim Kardashian!
The reality star, who arrived in Kuwait on Wednesday, made an appearance at the Millions of Milkshakes store opening, flaunting her crazy curves in a skintight, sheer paneled white dress – but it isn't just her Middle East a la mode that people are talking about, and RadarOnline.com has the details.
Article continues below advertisement
Kim, who showed off her assets in a sheer, bra-baring top on Wednesday during her meeting with the U.S. Ambassador, created quite a scene when she arrived hours late to the shopping center, where guests had paid an equivalent of $500 to attend.
One member of the media even shared a video of the craziness that ensued upon her arrival, blogging about the unprofessional organization of the event.
"This is very sad," tweeted Fahad Almusalam regarding the Kim Kardashian Kuwait Mania video uploaded on YouTube. "The youth of Kuwait L a gang of idiots."
Other people simply don't understand what Kim, who made a name for herself with her Ray-J sex tape, is doing meeting with government officials in the conflicted country.
"Wtf is Kim Kardashian doing in Kuwait?" tweeted Karen. "Drinking and shopping while the whole middle east is at war and there's innocent kids dying?"
Apparently Olivia Wilde isn't a fan of the reality star, either! After TV host, Billy Eichner, shared one of Kardashian's tweets about being in Kuwait, adding "Worst thing to ever happen in the Middle East," the actress retweeted his quip to her 710,000 followers.
Article continues below advertisement
Meanwhile, religious leaders are also up in arms about KK's visit.
"Her values clash with our traditions as a religiously committed people," Mohammad Al Tabtabai, a Kuwaiti preacher, told the Gulf News. "Her visit could help spread vice among our youth."
What do you think about Kim Kardashian's trip to the Middle East? Sound off below.