Brooke Shields' Mother Teri Dies At 79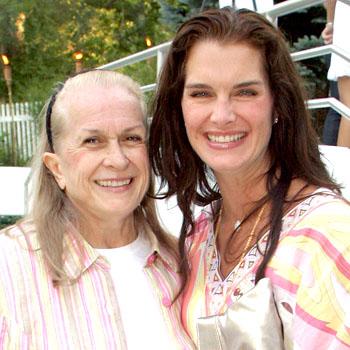 Before there was Kris Jenner, before there was Dina Lohan, there was the original 'momanger' -- Teri Shields.
Shields, a single mom who guided her daughter Brooke's career starting with a soap advertisement when she was just eleven months old, has died at the age of 79.
Although her death was just announced, Teri passed away last Wednesday in Manhattan following a long illness related to dementia, a spokesman for Brooke Shields said late Monday.
Article continues below advertisement
The actress, now 47, famously had a turbulent relationship with her mother, who battled alcoholism during her life.
Teri Shields often faced criticism for her handling of Brooke's early career. Among Ms. Shields' controversial decisions -- arranging for a photographer to take nude pictures of her when she was 10, allowing her to play a teenage prostitute in 1978's Pretty Baby, and allowing her to star in the sexually provocative R-rated film The Blue Lagoon when she was 14. Brooke Shields later testified before a U.S. Congressional inquiry that older body doubles were used in some of her nude scenes.
When Brooke was 15, she appeared in a sexually suggestive Calvin Klein jeans campaign, saying the now infamous line: "Nothing comes between me and my Calvins." The ad ignited a firestorm once again.
Teri Shields defended her actions over the years, saying she was taken advantage of her daughter's striking beauty and that her detractors were simply jealous.
In the mid-90s, Brooke fired her mother as her manager, reportedly because Teri didn't approve of her romance with tennis star Andre Agassi, whom she later married and divorced.
Article continues below advertisement
In recent years, Teri and Brooke apparently reconciled, and Brooke was seen visiting her mother at a nursing home.
Theresa Anna Lillian Schmon was born on Aug. 11, 1933, in Newark, New Jersey. She worked as a hairstylist, a makeup artist for Lord & Taylor and a model, according to a statement from Brooke Shields. She married Francis Alexander Shields in 1964, and Brooke was born the next year.
"It was then that Teri found her career" as her daughter's manager, Brooke Shields wrote.
Teri Shields and her husband divorced when their daughter was a few months old. Besides Brooke, her survivors include a sister and two granddaughters.
RELATED STORIES: