Perfect For All Hardworking Moms! Put Your Infant To Work With A Baby Mop!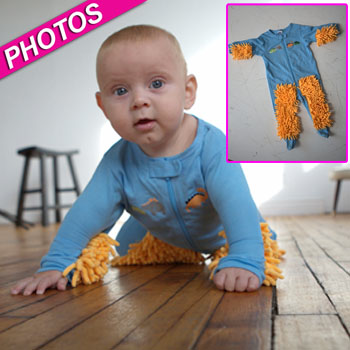 By Alexis Tereszcuk - RadarOnline.com Entertainment Editor
Attention all hardworking moms - time to put your baby to work!
A company has created an ingenious new product that will not only help busy moms with housekeeping but will make sure the little one gets a chance to learn how to contribute to society as early as possible!
Betterthanpants.com is selling the adorable onesie that will make any baby the perfect mommy's little helper, complete with all the reasons why someone NEEDS a baby mop.
Article continues below advertisement
According to the site, the baby mop will "teach your baby a strong work ethic early on in their life."
The blue romper with the orange mop has "ultra absorbent materials and engineered to clean and shine your floor," and will help a child learn fine motor skills.
""Your baby will learn not to drop and waste food," and also helps kids avoid childhood obesity.
"Baby will get a nice workout, burn off energy, and do muscle toning. And sleep better too!"
With so many working parents, this will free up their spare time and save money on house cleaning costs!
Just in time for the holidays, the baby cleaner is only $40.00 and is made of 100 percent cotton and is super soft and comfortable.
RELATED STORIES:
Kim Kardashian Wants To Start Family With Kanye West As Soon As Divorce Is Finalized
Lady Gaga & Taylor Kinney Are 'Super Serious' Talking Marriage & Babies!
Let's Make Babies - STAT! Jessica Biel Tells Justin Timberlake She's Ready For Motherhood!
Mama Snooki Shows Off Baby Lorenzo In New Tweets