Jason Sudeikis Spoofs 'Big Daddy Joe' Biden On SNL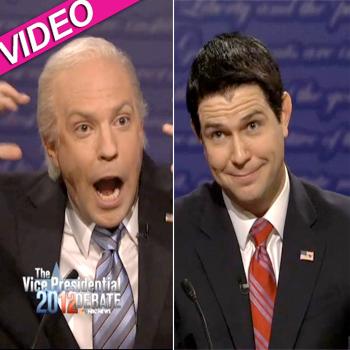 Jason Sudeikis was on fire last night! The comic actor's Saturday Night Live take on Joe Biden during last week's Vice Presidential debate was so funny, we're sure even the real Vice President is laughing.
took his Biden up against SNL regular Taran Killam doing his best Congressman Paul Ryan impersonation, and flattened him.
Sudeikis/Biden didn't even lose points when he called his home town of Scranton, PA the "single worst place on earth."
Article continues below advertisement
And don't even get him started on how he could compete against the rock hard Ryan in a physical match-up.
"I am monkey strong, brother," said the VP.
Killam gave Ryan a Eddie Munster-ish look and hydrated -- as the real candidate did -- almost non-stop.
But when he added to his previous "misstatement" about running a sub-three hour marathon by claiming he'd won the 100-meter dash at the London Olympics, the real winner, Usain Bolt, stopped in to set the record straight.
MORE ON:
Saturday Night Live