Snowboarding Pioneer Tom Sims Dies At 61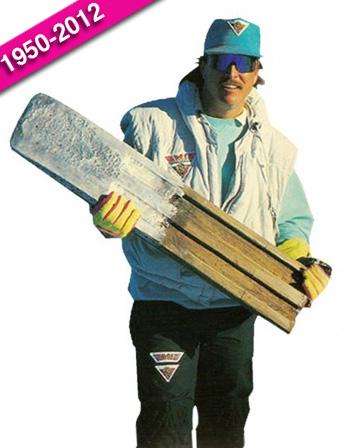 Tom Sims, the man who put snowboarding on the map, has died. He was just 61.
A pioneer in both the skateboarding and snowboarding industries, Sims also played James Bond on the slopes when he was the snowboarding stunt double for Roger Moore in A View To a Kill.
"He was the godfather of all board sports," Michael Brooke, publisher of Concrete Wave Magazine, told The Los Angeles Times. "He literally helped build the professional skate industry, and he was one of the giants in the history of snowboarding."
Article continues below advertisement
The founder of Sims Skateboards and Sims Snowboards, Tom died from a heart attack Wednesday at Santa Barbara Cottage Hospital, according to his sister, Margie Sims Klinger.
Sims, who became a world snowboarding champion in 1983, was responsible for the creation of the first snowboarding halfpipe made of snow and used in competition, in Lake Tahoe, and the first permanent halfpipe of snow at a ski area, at Snow Summit in Big Bear Lake.
Necessity was the mother of invention for Sims, who was an avid skateboarder at a kid, and needed a board that could handle winter weather.
"I was trying to solve a dilemma that I had," he told National Public Radio in 1998. "I couldn't skateboard on the snow-covered streets in the wintertime in south New Jersey. And the simplest solution was to make a skateboard for the snow."
RELATED STORIES:
Sylvester Stallone: Late Son Sage 'Was A Lovely Boy, And I'll Always Treasure That'