Prince Harry Keeps His Clothes On For First Public Appearance Since Nude Photo Scandal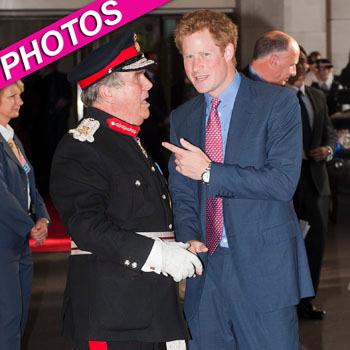 Prince Harry was suitably dressed in a suit and tie for his first public appearance since his raunchy nude photo scandal.
The royal bachelor attended the WellChild Awards, which honors youngsters dealing with serious illness and the medical professionals who care for them.
Harry has stayed undercover ever since his wild weekend in Las Vegas.
As RadarOnline.com has been reporting, Harry romped in a hot tub with numerous friends before heading back to his suite at the Wynn Hotel and Casino for a wild game of strip billiards.
Article continues below advertisement
Pictures from the night -- including harry in the buff -- were splashed across newspapers and on the Internet.
One of the sexy girls in the group, Carrie Reichert, described her time with him. "It was not like an orgy going on, it was just sexy naked. It was like almost a game. He was trying to get everybody to get naked. That was the whole point of him being naked," Reichert said.
The children at today's event apparently have no intention of letting their favorite prince off the hook for his antics. Alex Logan, one of the kids due to be presented with an award, was asked by ITV News what he intended to say to Harry.
"I'm glad you've got your clothes on Prince Harry!" the six-year-old replied without skipping a beat.
RELATED STORIES: