Phyllis Diller's Estate For Sale At $12.9 Million, Take A Peek Inside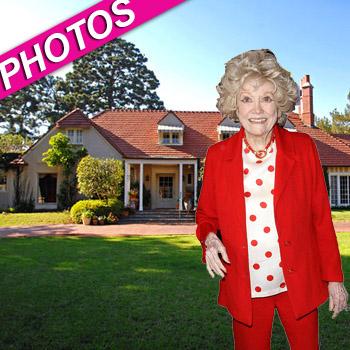 The estate owned by the late Phyllis Diller has hit the market for $12.9 million.
Sitting on over an acre in L.A.'s celeb-packed Brentwood neighborhood, the nearly 10,000 sq. ft. Country English-style house was built in 1914. It has eight bedrooms and five baths.
Diller, who died just a month ago, named many of the rooms.
The living room, with its grand piano, is called the Bob Hope Salon, after the legendary comic she considered her mentor.
Article continues below advertisement
A powder room is called The Edith Head in honor of the Academy Award-winning costume designer.
A classically-trained musician, Diller called her office -- which was where she kept a second piano, a baby grand -- The Bach Room.
Diller's son and executor, Perry Diller, has said he intends to sell the home's contents at auction.
RELATED STORIES:
Beyonce & Jay-Z Rent Out Huge Hamptons Estate: Take A Peek Inside!
Arnold Schwarzenegger & Maria Shriver Can't Sell Sprawling Ranch: Take A Peek Inside!
Mel Gibson's Amazing Mansion Goes On Sale For $33 Million: Take A Peek Inside