Khloe Kardashian Not Ovulating: 'Something Was Not Right'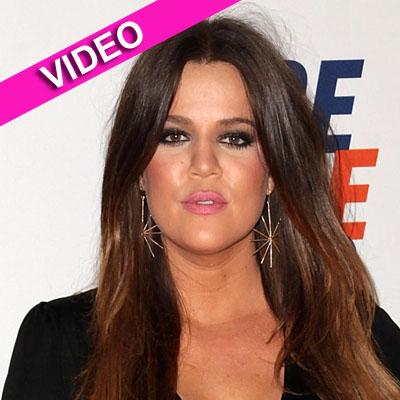 It's not often we see Khloe Kardashian in tears, but she couldn't hold them back when her doctor told her that her ovaries weren't releasing any eggs.
As RadarOnline.com previously reported, Khloe has been struggling with infertility problems for a while, and she finally headed to the doctor to find out what's wrong, in Sunday's episode of Keeping Up With The Kardashians.
Meanwhile, Kris Jenner was all smiles and celebration when she received her plaque from the U.S. Patent and Trademark Office announcing that she had trademarked the term Momager. "I'm a Momager people," she yelled. "Have a little respect!"
Article continues below advertisement
Khloe returned home to her husband, Lamar Odom, and explained to him what the doctor told her. "I got checked out, and I am not ovulating," she said. "I just felt like something was not right."
At a business meeting with her mom, sisters, and brother, the topic of Khloe's infertility came up again.
"What I'm going through, it's not something I have fun talking about over and over again," she said. "I don't think my family realizes how hard it is for me to talk about it."
Kourtney Kardashian, on the other hand, has had no problems conceiving. The family gathered at her house as she started having contractions and prepared to leave for the hospital to have her second child.
"I'm feeling very emotional and nervous," she said. "Even though I've done this before, I still just feel very anxious about what the next few hours will bring."
With the entire family surrounding her at the hospital, Kourtney gave birth to her daughter. "My baby girl is Penelope Scotland Disick and she is absolutely perfect."
Article continues below advertisement
The next day when Mason went to the hospital to meet his baby sister, Kris got very emotional. "I was so blessed to have six beautiful babies," she said. "All I really want at the day is for all my daughters to experience that amazing blessing in life."
Keeping Up With The Kardashians airs Sundays on E! at 9/8c.
RELATED STORIES:
Money Can't Buy Taste! Kim Kardashian Fails To Flatter Her Figure In $5,000 Dress