Exclusive
Wedding Impossible! Chef Robert Irvine Cried When He Said 'I Do!'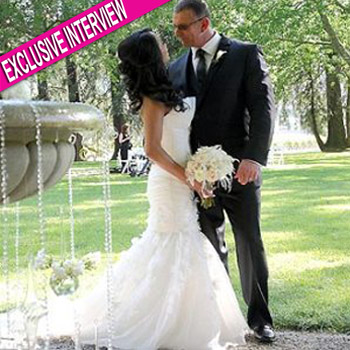 Article continues below advertisement
And he's sharing it all in a special episode of his show, Wedding: Impossible, airing Saturday night on Food Network.
"Our wedding was incredible," Robert says about the May 10 event. For a man who travels 330 days a year he had to find time to quickly tie the knot with his bride-to-be.
"We planned it in a little more than a week and it cost more than $10,000."
"The ceremony was a very emotional time for me and while most people see me as a very intense person I wanted people to see my funny side. But Gail had me in tears, that was great."
He says it was the party of a lifetime. "We had a great time at the reception! We stayed until the very end, I shut the party down!"
Robert wanted to give his 35-year-old bride a fairy tale wedding, and while he made most of the decisions she surprised him with the rehearsal dinner.
"Gail had me in tears," he admitted. "I like to control everything and I had noclue what so ever about what she was planning," which ended up being a Guy Fieri catered party.