Philadelphia Eagles Coach Andy Reid's Troubled Son Found Dead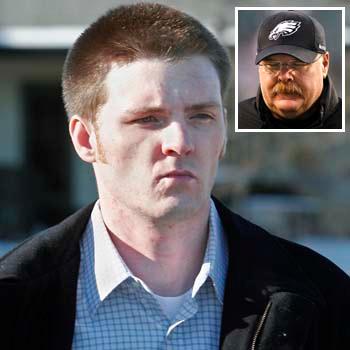 The son of Philadelphia Eagles head coach, Andy Reid, was found dead on Sunday morning in his room at Lehigh University.
Garrett Reid, 29 - who had a troubled past involving drugs and prison - and his wife Tammy were on campus assisting the Eagles at their training camp.
"The news is heartbreaking for everyone in the Eagles family," said team owner Jeffrey Lurie in a statement. "Our hearts go out to Andy, his wife, Tammy and their children."
Article continues below advertisement
Lehigh Univeristy police received a 911 call at 7:20 am reporting an unresponsive male in the dorms.
"Upon arrival attempts were made to revive the individual," said Chief of Police, Edward Shupp. "They were unsuccessful. There were no suspicious activities."
The coach's oldest son was imprisoned for a 2007 high-speed car crash in which another driver was injured. Police found heroin, which Reid admitted to using, and more than 200 pills in his car.
"I don't want to die doing drugs," Reid told the judge at his sentencing hearing. "I don't want to be that kid who was the son of the head coach of the Eagles, who was spoiled and on drugs and OD'd and just faded into oblivion."
It was believed he's been clean and sober since then.
His death - the cause of which is not yet known - is being investigated by the Northampton County Coroner's office.
RELATED STORIES: