Inside Kris and Bruce Jenner's Newly Renovated Mansion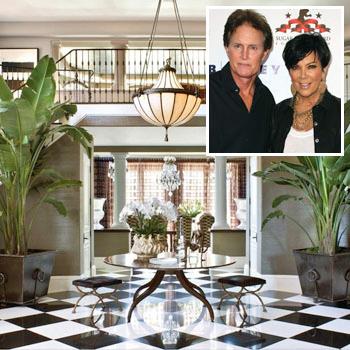 It's the epicenter of the Kardashian clan's reality TV show, now Kris and Bruce Jenner's interior designer is opening the doors of their luxury mansion to give an in depth look at their newly transformed home.
Showing off his work in an impressive 24-page spread in Interiors magazine, Jeff Andrews proudly displays the completed work of his two-year renovation of the 10,000 square foot Calabasas home.
Article continues below advertisement
"She really responds to old Hollywood glamour," Andrew says of Kris who certainly had a hand in transforming the Mediterranean mecca into what it is today.
"She was sick of florals and things that were too ornate. So it made sense to go more contemporary and to give a modern flavor to the home."
The revealing tour shows off just about every room in the home including the pristine kitchen, office, living room and even gives a glimpse into Kylie Jenner's bedroom, complete with a four-poster bed and Elise Remender's famous 'Red Lips' painting.
Despite the meticulous planning and outcome of the timely renovation Andrews says Kris was adamant that the house be "livable."
"Kris wanted the house to be beautiful, but she wanted it to be usable," he told the magazine. "If something is merely beautiful as a piece of art, that's one thing. But when you need to live in a space and have it function as your life does, that's where good design happens."
The article appears in the August/September issue of the magazine.
RELATED STORIES:
Kim Kardashian & Kanye West: No Sleeves, No Problem!
Kim Kardashian And Kanye West Hit Broadway
Kim Kardashian Boasts She Is More Famous Than Jennifer Aniston & Angelina Jolie!
Kanye West Planning To Propose To Kim Kardashian When Divorce Finalized, Designing Ring