They Make How Much??? What TV's Highest Paid Anchors Earn – Per Viewer!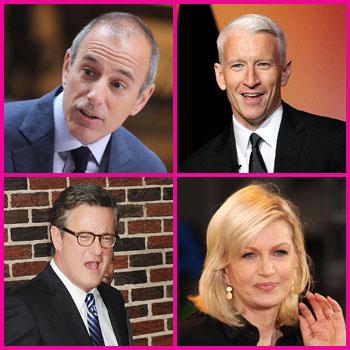 As Ann Curry's recent severance from NBC confirms, staying at the top of today's news food chain is a tough task, with huge rewards for those at the top in the form of seven- and eight-figure salaries.
Courtesy of our friends at The Daily Beast, we have a list of today's top-paid news broadcasters, including a breakdown of how much they pull in per viewer, divided by Nielsen ratings for the week of July 16.
Article continues below advertisement
Some of the figures may startle you, revealing who might be getting the short end of the stick, while others may be underpaid. A few off-hands observations we made: With an annual $25 million salary, top earner Matt Lauer does not necessarily provide brilliant bang for the buck, costing NBC a hefty $5.89 per viewer.
While a star in his own right, Anderson Cooper's $11 million paycheck costs CNN an eye-popping $18.09 per viewer. In contrast, Diane Sawyer certainly earns her $12 million salary with efficiency, costing ABC a mere $1.63 per viewer. While not bringing in the big numbers, CBS's Gayle King only costs the network $0.85 per viewer with her $2 million annual salary.
Here is the full list of newscasters, broken down by salary, name, show, average-per-viewer and audience size:
$25 million; Matt Lauer, TODAY; $5.89 per viewer; 4.245 million viewers
$20 million; Bill O'Reilly, The O'Reilly Factor; $6.67 per viewer; 2.998 million viewers
$15 million; Sean Hannity, Hannity; $7.74 per viewer; 1.939 million viewers
$13 million; Brian Williams, NBC Nightly News with Brian Williams; $1.68 per viewer; 7.736 million viewers
Article continues below advertisement
$12 million; Diane Sawyer, World News with Diane Sawyer; $1.63 per viewer; 7.32 million viewers
$11 million; Anderson Cooper, Anderson Cooper 360°; $18.09 per viewer; 608,000 viewers
$10 million; Shepard Smith, Fox Report and Studio B; $5.33 per viewer; 1.877 million viewers
$8 million; Charlie Rose, CBS This Morning; $3.41 per viewer; 2.341 million viewers
$7 million; Al Roker, TODAY; $1.65 per viewer; 4.245 million viewers
$7 million; Bret Baier, Special Report with Bret Baier; $3.37 per viewer; 2.076 million viewers
$6 million; Robin Roberts, Good Morning America; $1.30 per viewer; 4.598 million viewers
$6 million; Piers Morgan, Piers Morgan Tonight; $10.71 per viewer; 560,000 viewers
$5 million; Scott Pelley, CBS Evening News with Scott Pelley; $0.87 per viewer; 5.78 million viewers
$5 million; George Stephanopoulos, Good Morning America; $1.09 per viewer; 4.598 million viewers
Article continues below advertisement
$5 million; Chris Matthews, Hardball with Chris Matthews; $6.23 per viewer; 803,000 viewers
$4 million; Joe Scarborough, Morning Joe; $10.90 per viewer; 367,000 viewers
$3 million; Wolf Blitzer, The Situation Room with Wolf Blitzer; $7.30 per viewer; 411,000 viewers
$2 million; Mika Brzezinski, Morning Joe; $5.45 per viewer; 367,000 viewers
$2 million; Erin Burnett, OutFront; $3.95 per viewer; 506,000 viewers