Sabrina Bryan Is 13th Celeb On Dancing With The Stars: All-Stars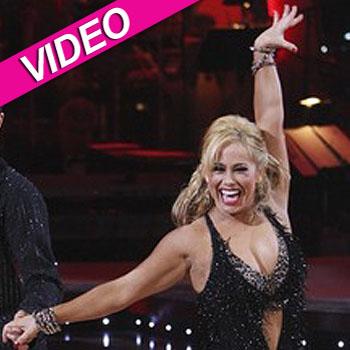 Sabrina Bryan edged out Carson Kressley and Kyle Massey in the fan vote for the 13th spot on Dancing with the Stars: All-Stars season.
"I am so excited. I'm getting teary eyed just right now," Bryan said on Good Morning America Monday. "It was a fight … we all three really wanted it. I'm the lucky one with some amazing, incredible fans that have really stuck behind me.
"For me, it's just incredible to have a second chance for my fans -- they were just so supportive from the beginning to just stick behind me and rally the troops -- this is all about them. I am so lucky: I feel like the stars are aligning and I get a second chance."
Article continues below advertisement
The Cheetah Girls beauty, 27, will team up with Louis van Amstel for her second stint on the show.
"This is the first season I can knock myself out as a dancer, as a choreographer, because she's so good," van Amstel said. "From day one, we are going to knock even our own socks off."
Sabrina's first stint on the show came in its' fifth season, when she teamed up with Mark Ballas.
Article continues below advertisement
As we previously reported, Dancing with the Stars: All-Stars marks the first season to bring back former competitors, all of whom achieved relative success in their first runs on the series. Some (Smith, Alley, Rycroft and Palin) are back with their original dance partners.
The show's 15th season kicks off with a two-hour premiere Monday, September 24 at 8/7c.