Celine Dion Has Girl Crush On Adele!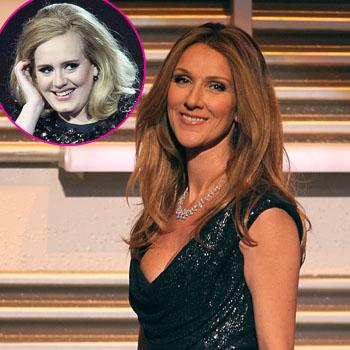 Adele has millions of fans around the world, including one of the most successful singers in the world!
In the September issue of Vegas magazine, Celine Dion reveals that she is one of the British beauties biggest fans, admiring her healthy body image as well as her soulful voice, and RadarOnline.com has the details.
"I love literally everything about her," Dion gushes about the 24-year-old. "I love her extreme talent. I love her writing. Her songs come from the soul. She's incredibly beautiful."
Article continues below advertisement
Dion, who has battled anorexia rumors most of her career, also admires Adele's healthy body, and how it defies music industry standards.
"I think it's very refreshing to see, and don't get me wrong when I say this, somebody who is not looking extremely anorexic," she continues about the mom-to-be.
"I know for a fact, as much as you do, that the music industry makes kids get sick. So we're not going to go further on that, but you know what I mean.
"She is going to help us, she's going to help the world." Like any super fan, Dion hopes to meet Adele one day, but probably isn't going to play it cool.
"It's going to be bad when I meet her. I'm going to give her the biggest hug. I'm not kidding."
Read more on Celine Dion in the September issue of Vegas magazine.
RELATED STORIES:
VIDEO: Celine Dion Shows Off Baby Twins To Oprah