Stinky Celebs! 10 More Stars With Sweaty Armpits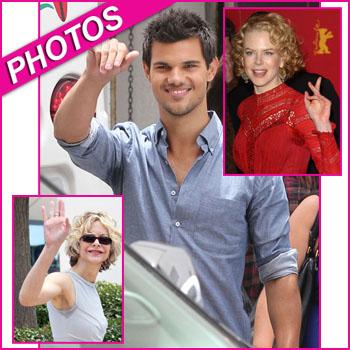 It's hard to avoid breaking a sweat when you are as smokin' hot as Hollywood stars!
From big screen bombshells and hunks to the most acclaimed athletes in the world, these sexy celebrities have experienced major embarrassment when they forgot to put deodorant on and sweat through their designer duds. RadarOnline.com brought you photos of 10 stars with sweaty armpits, and now we have even more!
Article continues below advertisement
PHOTO: 10 More Celebrities With Sweaty Armpits
Tom Cruise may be the biggest movie star in the world, but even the Top Gun hunk sweats through his shirts.
You've Got sweat stains! America's sweetheart Meg Ryan forgot to make deodorant part of her getting ready ritual, flaunting sweat stains with her pale grey dress.
Werewolves sweat too! Taylor Lautner is usually perfectly put together, but even the Twilight heartthrob gets super hot and sweats through his designer shirts.
And you would think that with all the time she spends on the court, gold medal goddess Serena Williams would remember her antiperspirant! The tennis champ revealed her off-court wardrobe malfunction, sweating though her threads.
Which other stars have showed off sweaty armpits? Find out by clicking here.
RELATED STORIES: