Matrix Director Seen For First Time Publicly As Transsexual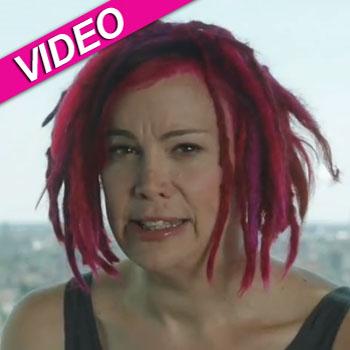 The Matrix director Lana Wachowski -- formerly known as Larry Wachowski -- appeared on camera for the first time as she undergoes a male-to-female transition, and RadarOnline.com has the video for you.
The 47-year-old appears in a video promoting her newest project, Cloud Atlas, a film she co-directed with Andy and Tom Tykwer.
"Hi, I'm Lana," the former carpenter said in the clip, clad in a grey dress with her hair set in pink dreadlocks.
Article continues below advertisement
Watch the video on RadarOnline.com
In 2002, Wachowski divorced wife Thea Bloom after being seen at a Los Angeles S&M nightspot, The Dungeon. After the split, Wachowski was romantically linked to dominatrix Ilsa Strix.
Cloud Atlas features an A-list ensemble including Tom Hanks, Halle Berry, Susan Sarandon and Hugh Grant. It hits theaters on October 26.