Katie's Secret Tryst With Former Fiance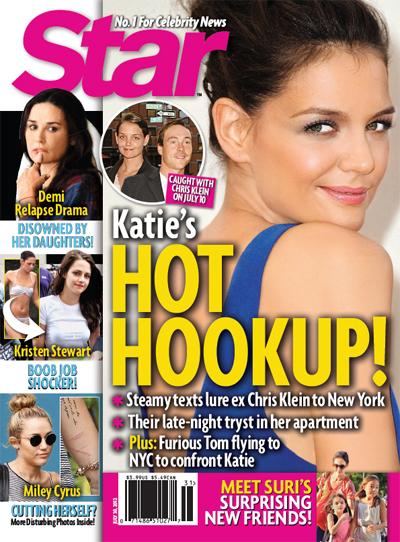 Tom who? Before the ink was even dry on Katie Holmes' July 9 divorce settlement from Tom Cruise, the liberated actress had rekindled her romance with ex-fiancé Chris Klein, Star has learned exclusively.
The former couple — who dated for five years but called off their engagement just one month before she took up with Tom in 2005 — secretly reestablished contact earlier this year. Soon after her shock divorce announcement, Katie and Chris, both 33, engaged in some heated texting, with Chris telling his onetime love that he wished he could comfort her in person.
Article continues below advertisement
"There was definitely flirty communication between the two," an insider tells Star.
Chris jetted into New York City on July 6, a week after Katie split from Tom on June 28, and the pair didn't waste any time rekindling their old flame. on July 10, just one day after she and Tom, 50, ironed out their divorce agreement, Chris visited her at her new place!
"Chris slipped into Katie's Chelsea apartment using a back service entrance so he wouldn't be spotted," the source reveals. "It was a sexy, supersecret rendezvous. The vibe was electric, and Katie and Chris spent a lot of time simply catching up on their lives. Chris told Katie about his FX show, Wilfred, and she even said she'd be up for doing a guest appearance."
Since hooking back up with Chris, Katie is acting like a giddy, lovestruck schoolgirl. "The fling is exactly what the doctor ordered — and reconnecting with Chris is keeping Katie's mind off of the painful memories of her joyless marriage to Tom," the source tells Star. "She is so thankful to have some lust and passion back in her life."
Pick up Star, on newsstands, for the full story!