Grey's Anatomy Star Eric Dane Hangs Up His Stethoscope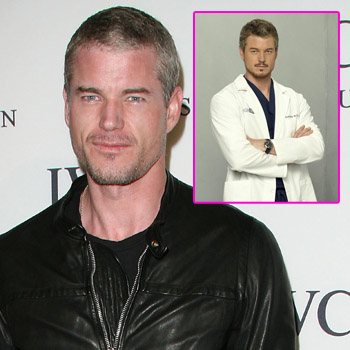 Grey's Anatomy fans are mourning the loss of another beloved character as Eric Dane has announced he is leaving the hit show after six seasons.
The 39-year-old actor has played Dr. Mark Sloan since joining the medical drama in 2006 but he says the upcoming ninth season will be his last.
"I am extremely grateful to everyone at Grey's, ABC and Shondaland for the experience and memories I have had over the course of this run," Eric told TVLine.
Article continues below advertisement
"It has been wonderful to work alongside and learn from a creative force such as Shonda Rhimes."
In a statement Shonda – who created the hit show – says Eric played "one of the most beloved characters on Grey's Anatomy."
She added that the man dubbed McSteamy by fans "did not come to this decision lightly, but after much consideration and conversations, he and I decided that this is the right time for his storyline to end.
"Eric will always remain an important part of our family. I wish him the best and I look forward to watching as he continues to steam up the big and small screen."
Dr. Sloan is not the first high-profile character to leave Grey's Anatomy.
As RadarOnline.com previously reported, Kate Walsh announced in June that she is leaving the spin-off series Private Practice.
McSteamy was left heartbroken when his soul mate Lexie Grey – played by Chyler Leigh – died from injuries sustained in a plane crash.