Arrest Warrant Issued For Cuba Gooding, Jr.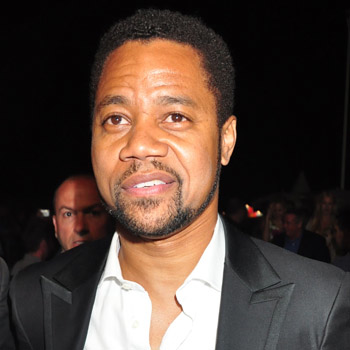 By Alexis Tereszcuk - Radar Entertainment Editor
Cuba Gooding, Jr. is a wanted man by the New Orleans Police Department after an altercation in a bar where he allegedly punched a bartender twice early Tuesday morning.
The NOPD has issued an arrest warrant for the 44-year-old actor after he was accused of hitting the bartender at Old Absinthe House on Bourbon Street at about 3 a.m.
"A female bartender told officers that Gooding entered the bar with a group of people, and after a few minutes, other customers recognized him and started asking him to take photos with them. The bartender said Gooding soon became very aggravated with them," the NOPD press release stated.
Article continues below advertisement
"That's when she says she approached him and asked him to calm down. Gooding then allegedly pushed her away with an open hand. One of the bartender's co-workers then called 9-1-1. At that point, the bartender says she informed Gooding that the police were on the way, and that he needed to leave. Gooding then allegedly pushed her again, and left the bar."
Gooding, Jr. is in New Orleans filming the movie The Butler, a story about a White House employee who served eight presidents, which also stars Oprah Winfrey, Robin Williams and Nicole Kidman.
RELATED STORIES:
ABC Pulls Last 2 Episodes Of Fred Willard Series
Fred Willard Banished To Spare Room By Furious Wife Following Indecent Exposure Arrest
Fred Willard Tweets About Adult Theater Arrest, Calls It 'PG' And Promises 'Full Story To Follow'
Former Miss New Hampshire Beauty Queen Arrested, AGAIN, For Domestic Assault